10 Best Homemade Bongs
Every cannabis user has been there: out-and-about or otherwise unprepared, caught bong-less at the most crucial of times.
It is here that true genius may shine through as Marijuana MacGyvers reveal themselves to be the resourceful, gifted ganja connoisseurs they really are. Everybody has probably made a pipe out of an apple at some point (or, maybe, an aluminum can – which can't be good for your health) which is a great method in a pinch. But others have engineered smoking solutions that would make Rube Goldberg proud – using objects the rest of the world would never consider to make homemade bongs and pipes.
Thankfully, many cannabis creatives have shared their homemade paraphernalia on the internet. We've collected 10 of the most creative (and craziest) DIY bongs and pipes, hopefully to inspire more endo engineers to even higher levels of greatness.
10. Honey Bear Bong
Source: Not a Bear Bongs
Those iconic honey bear containers can be easily made into a makeshift pipe. You'll have to empty out all the honey first, of course – so some people suggest just buying a never-been-filled bear since sticky honey is hard to clean out. Honey bear bongs are such a tried-and-true DIY method that Brad Pitt used one in a Quentin Tarantino movie.
9. Jager Bong and Jager Bong Jr.
Source: Tumblr
After your bottle of Jagermeister is bombed out, many folks just save the bottle as a decoration. Why not do something more with it? You can make a homemade bong out of most any glass bottle (see the video below to learn how), but this DIY bong gets serious bonus points in the ingenuity category for using an airplane empty bottle (50 ml) as an extra chamber.
8. Ganja Gourd
Source: THC Finder
If the Halloween spirit hits you, a carved out pumpkin makes an excellent DIY bong. Though similar to an apple pipe, pumpkins are great because they come in different shapes and sizes. From miniatures to huge pumpkins, there's a ganja gourd waiting to be made for smokers of all tolerances – so find a pumpkin that's the right size for you, then follow along to the helpful video below.
7. Bamboo Bong
Source: imgur
Sturdy and found growing wild in much of the world, or maybe in your carefully cared for home garden, bamboo is a no-brainer material for DIY paraphernalia. The video below shows how to make a bamboo bong; for many folks, the allure of using bamboo is that it can be used to make bongs of (sometimes ridiculously) great heights. For cannabis creatives interested in something smaller, that hits very hard (and very harsh), try your hand at crafting a bamboo steamroller.
6. Tic Tac Bong
Source: reddit
"What is this, a bong for ants?" Could be, but it's also a super easy, super portable, and super awesome DIY bong – plus, with Tic Tacs costing around a buck, it's very cost effective. Basically, take an empty Tic Tac container, put a little water in it, cut a hole in the side for a bowl piece, and enjoy on the go. Watch the video below to see a Tic Tac Bong in action.
5. Tupperware Bong
Source: Grasscity
When scrambling to make a DIY bong, you need something that is on-hand, easy to modify, and that you won't miss too much. Everybody has some tupperware at home, it's cheap, airtight, and won't be a struggle to cut some holes in. Even better, using the different shapes and sizes of the tupperware you have makes for a fun exercise in DIY Marijuana MacGyver-ing. Check out this thread at Grasscity to get some inspiration. Sildenafil Citrate online http://www.wolfesimonmedicalassociates.com/sildenafil-citrate/
4. Beer Helmet Bong
Source: The Weed Blog
Rowdy sports fans were on to something with the beer helmet – sip brews while keeping both hands free for nachos. Cannabis users can create their own version for hands-free enjoyment by creating their own beer helmet bong, which uses two cannisters instead of beer cans for the ultimate double-chamber creation. You'll likely need a friend to light it (both chambers at once!), but if you offer to switch off rounds using the helmet, you'll find some willing participants.
3. NES Zapper Pipe
Source: Not a Bear Bongs
Some might call this desecrating a cherished childhood toy – we think it's an upgrade that makes it more practical for today's day and age. The zapper gun used for Duck Hunt and other games on the original Nintendo Entertainment System can be easily modified to become a homemade pipe that will impress your friends, inspire a trip down memory lane, and soon have you all giggling like that damn dog. Follow these tips to build your own Zapper Gun Pipe.
2. N64 Controller Pipe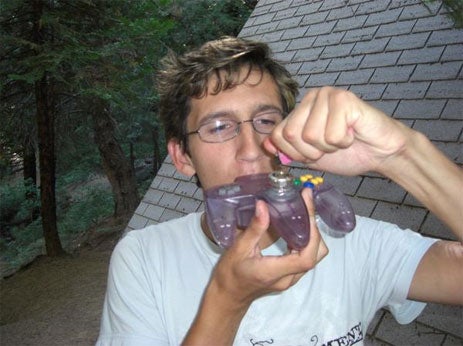 Source: Gizmodo
Warning: don't get too excited before attempting to make this awesome N64 controller pipe. Think it through: will I still have enough controllers to play Mario Kart four-player? Yes? Then proceed with the below tutorial from Stoner Tourism, which will show you how to replace the joystick with a bowl piece and create one of the coolest homemade pieces of paraphernalia we've ever seen. Suhagra 100 mg http://www.healthfirstpharmacy.net/suhagra.html
1. LEGO Bong
Source: We Are Baked
LEGOs challenged you as a kid to build the coolest constructions you can think of. Well, there's still challenges to be taken head on as an adult, and some resourceful smokers have created the wildest bongs they could imagine using LEGOs. Below, check out the Taj Mahal of LEGO bongs – it's got a small stash box, lighter holders, and windows that let you see the water bubbling.